We hope that you're staying safe and healthy at this challenging time.
For many of us, Fairtrade farmers and workers included, planning for the future seems daunting right now. So it's important to remember that - together - we can change things for the better.
You, other churches, and the wider Fairtrade community proved this yet again in Fairtrade Fortnight 2020, the second year of our campaign for living incomes for cocoa farmers.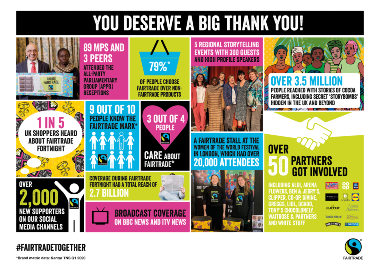 Fairtrade stories reached millions from our congregations to classrooms, supermarkets to stations, and across the press and social media - thanks for being involved!
Without your Fairtrade campaigning efforts, we wouldn't now have almost 1,000 different Faritrade chocolate bars available in the UK.
And we've seen the momentum grow - this year alone, Waitrose and John Lewis have started using Fairtrade cocoa for 100 per cent of their own-brand confectionary. And just last week LIDL launched their amazing new 'Way to go!' Fairtrade chocolate bar.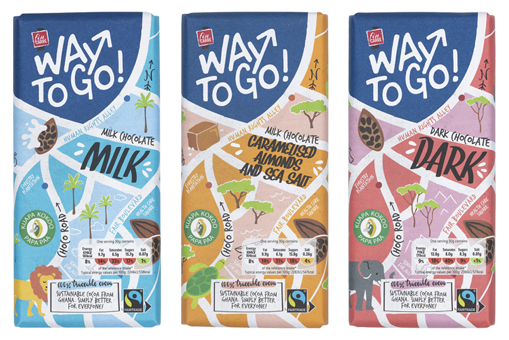 But there is still a long way to go - as for too many cocoa farmers, the basic necessities remain out of reach. Demonstrated clearly by the coronavirus crisis, it is vital that everyone can access the essentials - like medical care, clean water and food.
This is why we still need your support to campaign for all cocoa farmers to earn a living income.
Interested in learning more about our fight to change chocolate? Sign up for our online webinar. Although the live event is now full, we can send you a recording shortly afterwards. You can also still submit your questions in advance of the panel later today.
Recommit to Fairtrade in 2020
It's not just about a Fortnight, and it's not just about chocolate. Your church can support Fairtrade all year round, when and how it works best for you. In fact, churches remain a large and poweful force at the heart of the Fairtrade movement, 25 years on from catalysing the birth of the Fairtrade Mark.
So, although, you are not currently able to meet, you can still support Fairtade by committing (or recommiting) to being a Fairtrade Church. You find out more about how to do this here.
Please do get in touch with us at faiths@fairtrade.org.uk with the name of your church and its postcode to receive your personalised form.
Best wishes,